A few years ago I taught myself how to make scalers. I firmly believe the way I learned made me a better creator. The trial and error taught me so much more about using the Debug tabs than if I'd just read someone else's tutorial.
So, rather than just post a
"How to make scalers"
tutorial I'll share how I learned and hopefully it will inspire you too!
The way I learn most things is to take them apart and see what makes them tick, so I thought
"What already has a scaler built in?"
Answer: A
head
. So I opened a head and another similar product with no scaler and compared the Config, Mesh and Action tabs until I realised that the Debug tab had some different features in it.
Next was to understand how to transfer those features to a non-scaler item. This involved pressing the buttons until I realised what did what. There's only 4,
Add Key
, Add
Data
,
Edit
and
Delete
.
So far it's all been quite straightforward, if you can use a computer you can do it too. The next bit is where you'll need some help if you're not a mesher.
Basically you are scaling the invisible bones that are inside all IMVU avatars. What you'll need to know is the names of those bones so that instead of only being able to scale a head, you'll be able to swap "
Head
" for a different bone and scale that instead.
Below is the hierarchical table of bone names. The hierarchy matters because what you do to one bone will affect those further up that branch as well. To counteract let's say a foot getting bigger as well as the calf you meant to enlarge you would scale both and use, for example, a value of
1.5
for the calf axes and
0.75
for the foot's equivalent to balance each other out.
Bone Name Hierarchial Table
Code: Select all
Female03MasterRoot
  PelvisNode
    lfHip
      lfThigh
        lfCalf
          lfFoot
            lfToes
              
    rtHip
      rtThigh
        rtCalf
          rtFoot
            rtToes
             
    Spine01
      Spine02
        Spine03
          Spine04
            lfClavicle
              lfShoulder
                lfbicep
                  lfElbow
                    lfWrist
                      lfHand
                        lfmetaCarpal01
                          lfThumb01d
                            lfThumb02
                              lfThumb03
                                
                        lfmetaCarpal02
                          lfFingerIndex01
                            lfFingerIndex02
                              lfFingerIndex03
                                
                        lfmetaCarpal03
                          lfFingerMiddle01
                            lfFingerMiddle02
                              lfFingerMiddle03
                                
                        lfmetaCarpal04
                          lfFingerRing01
                            lfFingerRing02
                              lfFingerRing03
                                
                        lfmetaCarpal05
                          lfFingerPinky01
                            lfFingerPinky02
                              lfFingerPinky03
                                
             Neck01
               Neck02
                 Neck03
                   Neck04
                     Head
                       
            rtClavicle
              rtShoulder
                rtbicep
                  rtElbow
                    rtWrist
                      rtHand
                        rtmetaCarpal01
                          rtThumb01
                            rtThumb02
                              rtThumb03
                                
                        rtmetaCarpal02
                          rtFingerIndex01
                            rtFingerIndex02
                              rtFingerIndex03
                                
                        rtmetaCarpal03
                          rtFingerMiddle01
                            rtFingerMiddle02
                              rtFingerMiddle03
                               
                        rtmetaCarpal04
                          rtFingerRing01
                            rtFingerRing02
                              rtFingerRing03
                              
                       rtmetaCarpal05
                          rtFingerPinky01
                            rtFingerPinky02
                              rtFingerPinky03
The next thing you are going to notice is that if you are scaling more than one bone you need a Mesh entry for each. Unless what you are deriving from has a lot in the first place you'll need to add some. The simple way to do this is copy the information in Debug 2 from "
Mesh0
" ... add extra keys and data as necessary, simply increasing the number of the mesh and index as seen in this example: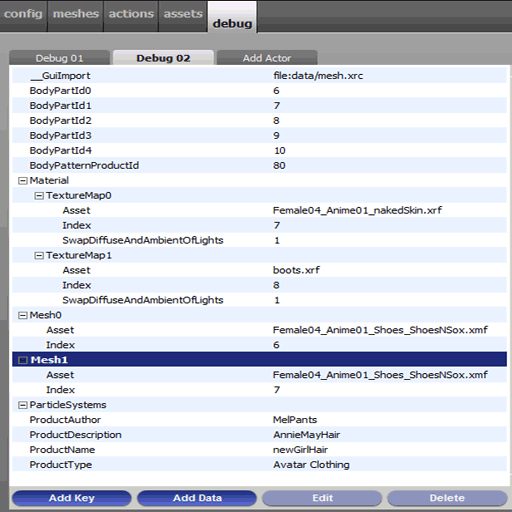 I just added a key named "
Mesh1
", then I made a data entry called "
Asset
" and copied the existing mesh name ... the "
Index
" then appeared and I merely changed it from "
6
" to "
7
" and now there is an extra space for adding scaler entries to another bone.
Please do give it a try and if you get stuck I'll try to help keeping within this thread's theme of self-education. It honestly is the best way to learn this stuff, it felt like quite an achievement when I figured it out and not many others had at that time. Who knows, with the way IMVU is going we might need to figure out a whole lot of other new stuff in the future and I hope trying this gives you the confidence to be an innovator in some new field or an existing one.