BASIC STILL STANDING POSES TUTORIAL
I use Deliverance's DN Animated Pro Edition sticker to make my poses, so here is a tutorial on that.
The DN Animated Pro Edition sticker link :
http://www.imvu.com/shop/product.php?pr ... id=4902432
Some users have the sticker on their homepage for use if you don't feel like buying one.
After you click start, this will show up, press gizmo as it will give a guide on how to manuver the bones and is 10x easier.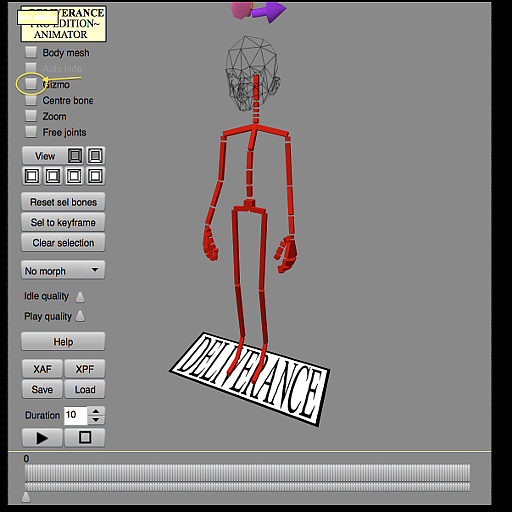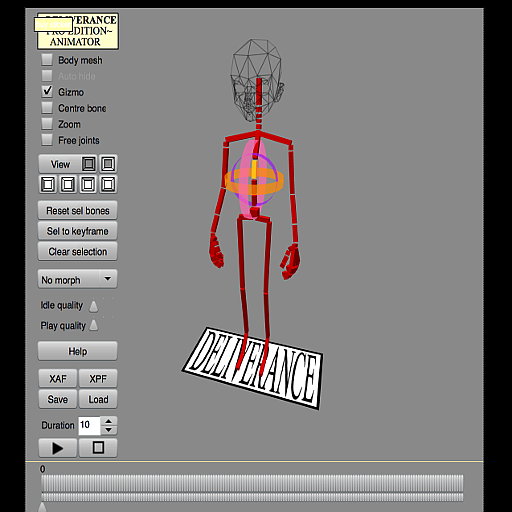 To use the gizmo just press on the circle sides by right clicking with your mouse, and then dragging. Different circles do different things. They either move the bone right or left, up or down, or diagonally. I'd advise to experiment a bit before actually making a pose to get the hang of it.
This is going to be my example. What I did is that I straightened the back a bit to not make it look so arched and lowered the avatar down.
(to lower, press the box in the middle of the avatar and some arrows should show up. Use the orange arrow to lower. This is important if you don't want your avatar to be floating and for making seated poses)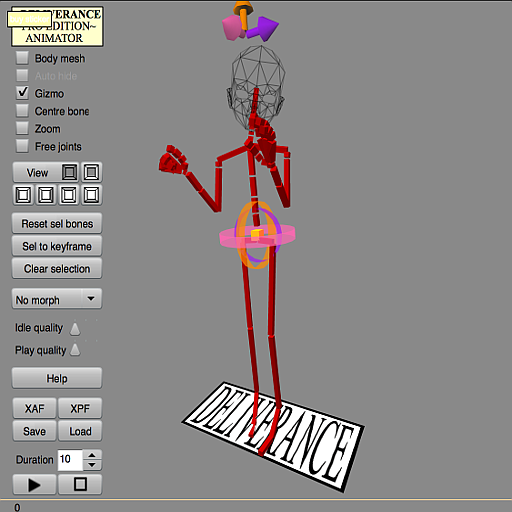 Once you're done, press XAF. Then a popup should show up.
PRESS ON "ALL BONES"
and then export it to whatever folder you want. I usually export it to my "Movies" folder.
[Always make sure when exporting it has .XAF at the end of the file name, some computers do this automatically, some don't, so if the file doesn't have .XAF at the end, type it in, or it won't work in create mode]
Now go to the shop and search up "Empty Actions" or find an accessory with actions. I'm going to choose an "Empty Actions" to derive from.
When you get to the editor, an empty meshes tab will show up. Click on the actions tab as the meshes tab is not needed for this.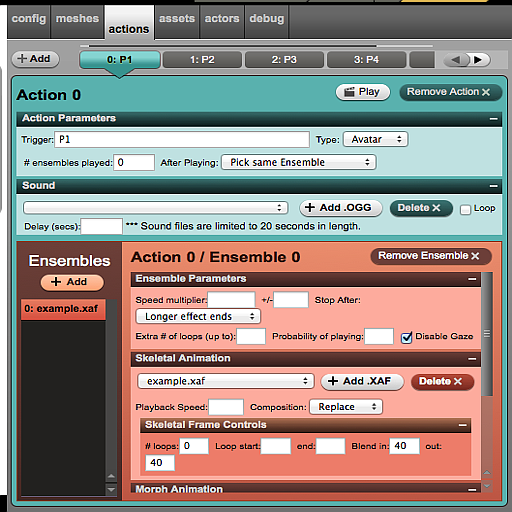 Add your exported .XAF into the Skeletal Animation section.
You can copy these settings I have inputted. Put your loops at 0 so it the action is permanent when it is triggered. With the blend in and out, the smaller the number the faster the action will appear on your avatar. I like it at a bigger number with speed multiplier at "Longer Side Effects" because it appears smoother when slowed.
Once you have the settings inputted, press "Play" and your action should appear on your avatar!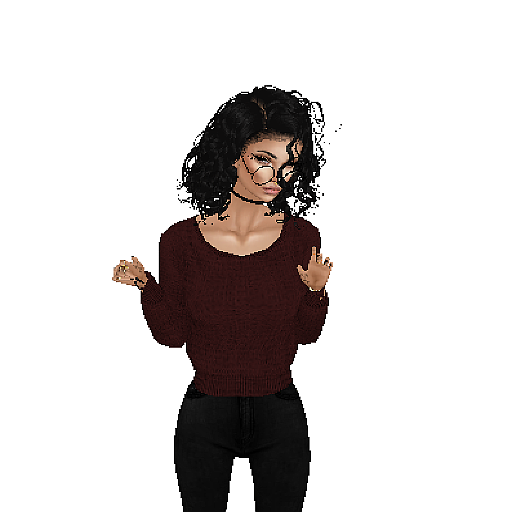 TIPS:
1. Always make sure you have a trigger name. If your trigger is empty, it won't work, and make sure the trigger name doesn't have spaces.
2. Add a facial expression from using Deliverances DN Facemaker http://www.imvu.com/shop/product.php?pr ... id=4902375 (Also can be found on some users home pages) Put "0" in the loops and it should show up with the action when triggered.
3. **USE CREATE MODE WHILE MAKING THE POSES, THIS SAVES TIME AND HELPS YOU SEE WHAT WORKS WITH YOUR AVATAR ON IMVU. JUST OVERWRITE THE FILE WHEN CORRECTING THE ACTION AND THEN RE-UPLOAD TO THE SKELETAL ANIMATION AGAIN. ALSO DON'T EXIT OUT THE HOMEPAGE YOU ARE DOING YOUR ACTION ON UNTIL YOU ARE THOROUGHLY HAPPY WITH THE RESULT ON YOUR AVI IN THE EDITOR.**
4. To delete actions that you don't want to add a .XAF to, delete the trigger name. Don't just press remove the action.
5. If You aren't able to get bones to do what you want, press "Free Joints", this gives more options, but it can mess up moving around the avatar. So as soon as your done moving the bone around, unclick it, so its easier to move around.
Have Fun Creating!
You can search up some Youtube tutorials too if you need more help.